Earlier this year, the giant in the domain market – GoDaddy suddenly introduced a new logo, completely different from the logos used before. It also impressed and represented a new direction for the company.

The logo is a clever combination of the letters G and O, creating a symbol that blends like a heart. It carries the message: To do what you love.
Our new logo, the GO, is all about empowering you — the everyday entrepreneur — to do what you love. Go after your dreams and make 'em real, knowing we're here to help every step of the way. #makeyourownway pic.twitter.com/8eVtTRrSID

— GoDaddy (@GoDaddy) January 14, 2020
The new logo is a product of GoDaddy's in-house design team with Codo and Lippincott brand companies.
Cameron Scott, GoDaddy's brand manager, said: "The new logo represents the entrepreneurial spirit. All our customers have their own ideas. We are here to take your first steps with you. We are still here to help you with the next steps. And you always have us behind you on the way. "
The brand message is very clear and detailed by GoDaddy in order to raise the overall spirit, bring it in harmony with the hearts of customers. The fusion between the two sides will create perfect products.
It can be seen that GoDaddy has been extremely serious in changing its brand identity. Operating since 1997, this is the fourth time the company has changed its identity – a completely different change!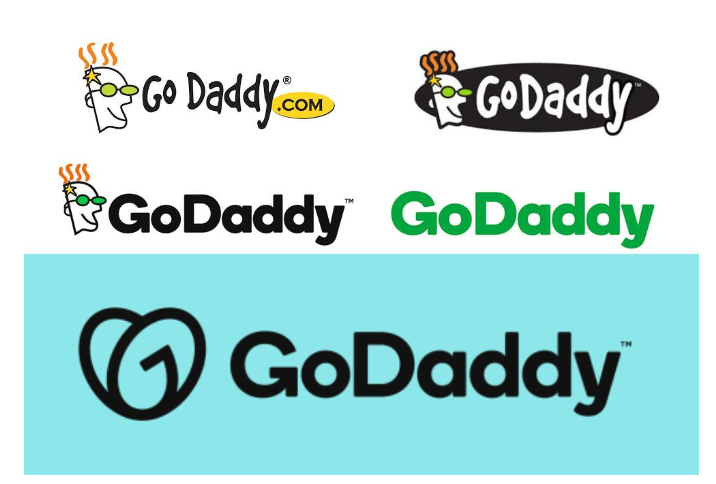 GoDaddy's first logo with the head symbol and website address was used for a long time. There are many different reviews about it. Many people are concerned that it is too error-prone. In 2018, GoDaddy completely removed the image from the logo for the first time, keeping only the text. Since then, GoDaddy has operated without its own logo, receiving only word brand grades.
The new logo that appeared in the new year 2020 marked a positive change in positioning the company's brand. It has now been used in the company's advertising campaigns and brought a lot of good signals.